real estate in Victoria
enters a world of pure imagination
Welcome to Forms Live, the platform behind Australia's premier residential & commercial real estate online forms.
over 39 Million forms created and counting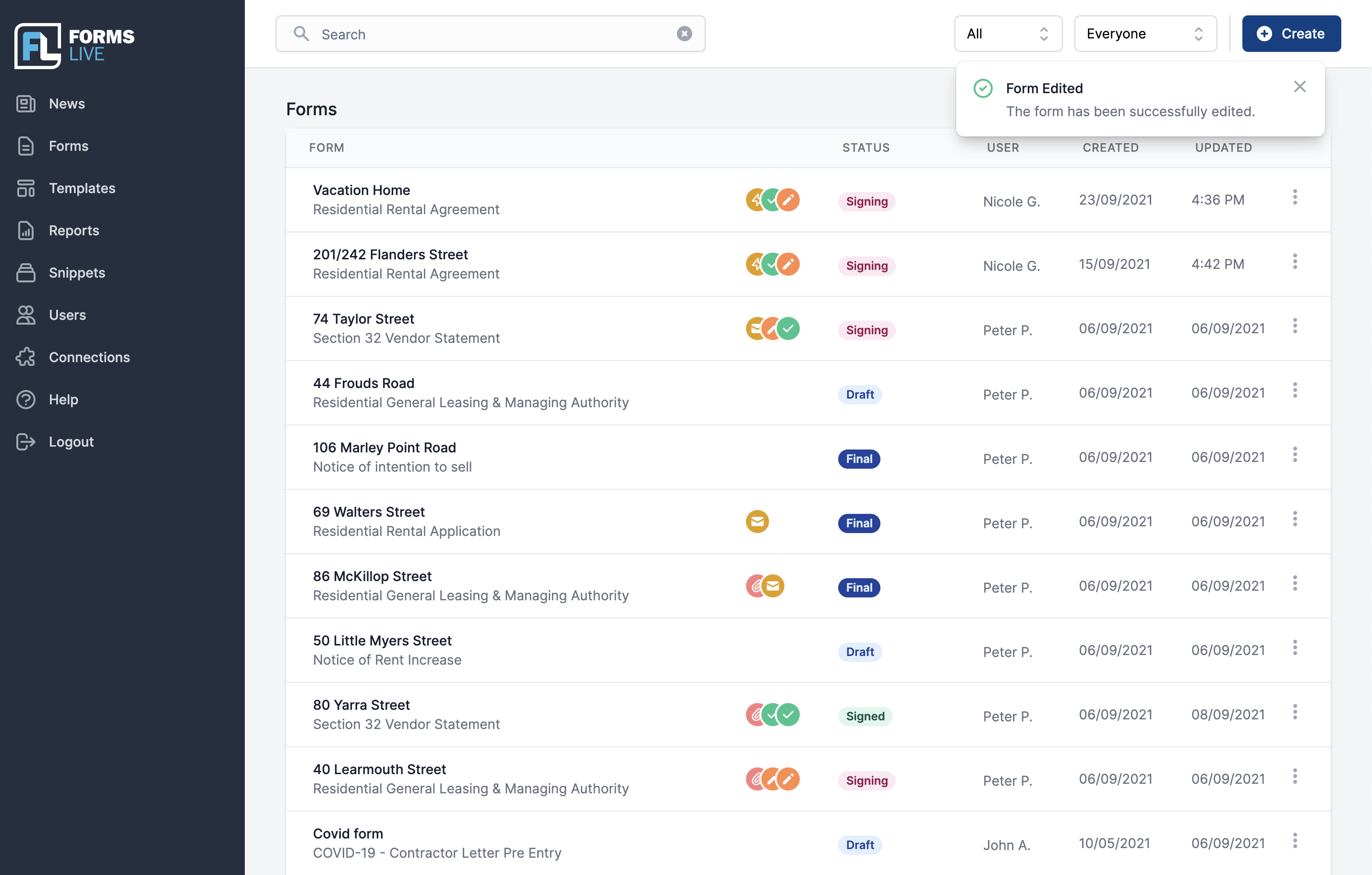 Request A Free Demo
Ready to take your Victorian real estate business to the next level?
Book our free demo to find out how!
Take a look and you'll see into
Victorian real estate's premier application
User friendly layout
Our simplified layout, improved visibility and portability have our clients raving!
Options

The form options include a series of drop-down boxes, options (such as duplicating, editing, deleting, and more) have been organised in a simple and straightforward system.

Navigation

Coloured icons are available on the forms page, quickly alerting you to the status of signatures, utility offers, shares, and more – keeping you in the know within just a glance.
Optimised sidebar
The sidebar within forms acts as a toolbox, providing easy access to a form's relevant information, as well as integrations specific to certain forms.
Status History

You have access to the status history of the form, including the date it was created all the way to the date it was signed.

DocuSign Integration

The DocuSign integration enables you to edit signee details and resend, making the signature process simple and easy. DocuSign is free to use on all your forms and agreements.

SecureXchange integration

The Securexchange integration enables you to safely request bank details and deposits from clients. With Securexchange, you can request deposits, both remotely when using mobile view.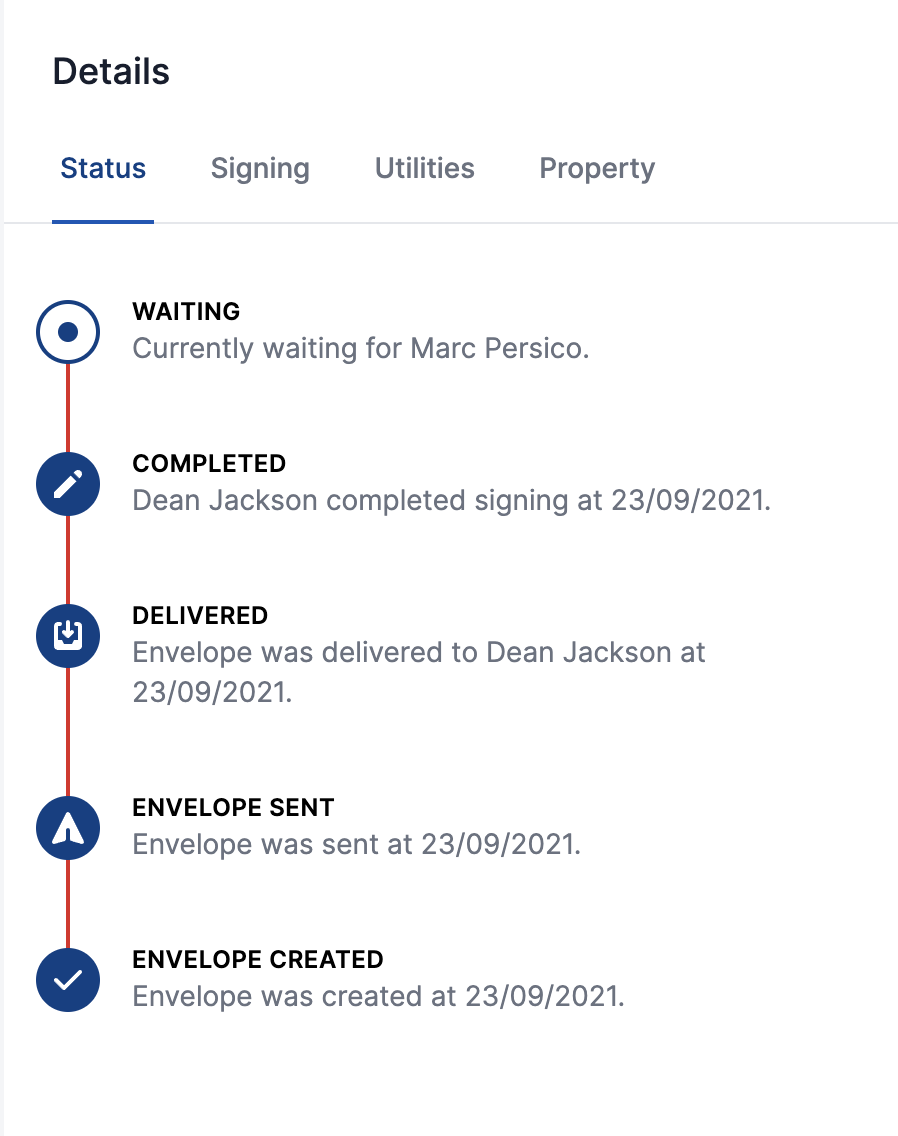 Premier performance
Forms Live's menu options are organised to help you navigate with a simpler and more straightforward system of dropdown boxes.
eSignatures

You will have a smooth ride using the DocuSign integration, which is in-built within the side bar and allows for the editing and resending of signee details.

Mobile Accessibility

With mobile view, you can open a form to see the status history, the signing status (with option to edit the contact details and resend) or view any attached forms.
Sign up Now
Let Forms Live help you improve your property management and sales through faster operations, better forms, and easier processes. Book your free demo to find out how Forms Live can work for you.

Forms Live has improved our business, increasing efficiency and reducing costs. Some people are amazed we can do everything on the spot and in real-time, and I love being able to sign on the screen. It's those little 1-percenters that impress clients.
want to reduce signing time?
Victorian real estate's platform of choice for digital forms.
Forms Live can help your Victorian real estate agency save time and money with all your documents signed in one place. Let us show you how to create your very first form.
integration spotlight
A winning combination for compliance - Eliminate the hassle of creating your own documents, stay compliant and cut down your admin time.
Access compliant Forms
Inspection Express subscribers will have access to an expanded suite of forms, with over 50 new compliant forms - all overseen by Victorian property lawyers and updated as soon as legislative changes are made.
pre-populated fields
Inspection Express will generate our forms and push data held within the platform into the relevant fields, minimising the time spent on paperwork and essentially cutting admin time by 70%.
DocuSign Integration
Your sales team will have access to DocuSign, which is free-to-use on Forms Live. With which signatures can be quickly acquired through remote signing, even without having to leave the platform.
Request A Free Demo
Ready to take your Victorian real estate business to the next level?
Book our free demo to find out how!
mitigate
real estate risk with digital forms
Forms Live is the best real estate software for up-to-date Victorian real estate legislation changes, reducing your legal risk.
Updated digital contracts

With Forms Live, the contracts inside our platform are monitored by the legal team at Victorian legal powerhouse Collins Biggers & Paisley. The system automatically replaces old contracts and will alert you letting you know about the updates minimising your legal risk.

Secure documentation

When a digital form or contract for a Victorian client is in draft, changes can be made as required. Once the form is finalised, the document is locked as a secure PDF ready for signing with DocuSign, reducing the likelihood of an incorrect version being used and protecting against fraud.

Track interactions

Each time someone uses a real estate agent form or contract, a digital time stamp is recorded. These digital logs can be provided as evidence when needed to prove that a document was signed, that the correct version was used, and that a contract was both sent and received.

Easier to manage

Digital forms located in the cloud means searching and finding documentation is super easy. Finding client related documents with a simple search - reducing the time it takes to pull information together. Save time and money whilst demonstrating compliance.
forms live
Australian owned & operated
Forms Live is the only legal forms and contract company in Australia working with law firm Colin Biggers & Paisley to ensure generated forms are updated and reflect Victorian legislative changes as soon as they occur.
local support
A ticket-based customer care system ensures quick response times, our Forms Live support team respond within 30 minutes. The team behind Forms Live is based in Adelaide and handles all issues in Australian time zones.
Australian team
Forms Live is updated regularly with incremental improvements as requested by users, by our Australian development team. Delivering fast results and avoids large scale software updates, which would be disruptive to our client's workflows.
secure environment
Forms Live enabled data to be captured once and passed onto the next step in the process, providing your Victorian real estate agency with access to that information quickly and easily whether they are in the office or out in the field.
Forms Live is comprehensive and has improved both our efficiency and accuracy. The Platform is user-friendly, offers an extensive range of forms, and the support is excellent.

Forms Live is very efficient and an absolute time-saver, even with people remaining in their own homes and work environments we can still do business!
Take a look and you'll see
there's nothing to it
Sign up Now
Let Forms Live help you improve your property management and sales through faster operations, better forms, and easier processes. Book your free demo to find out how Forms Live can work for you.